Press release
Elias Boletis appointed as external advisor to suction sail supplier bound4blue
Elias Boletis appointed as external advisor to suction sail supplier bound4blue
bound4blue welcomes Dr. Elias Boletis – former Director Propellers and Transmission at Wärtsilä Propulsion- as an external advisor.
Elias brings extensive experience and deep industry knowledge to bound4blue as it continues to drive growth and innovation.
bound4blue today announced the appointment of Elias Boletis as an external advisor to the company.
Elias has a Doctorate in Applied Sciences from the University of Brussels and holds a MSc in Mechanical and Electrical Engineering from the Technical University of Athens (Greece) and a MSc in Turbomachinery and Fluid Dynamics from the Von Karman Institute (Brussels, Belgium). He has also been recognized with several industry awards and accolades for his contributions to the field such as integration of new technologies, propulsion retrofits and new machinery room architectures.
Elias brings with him over 35 years of experience in the maritime industry, having held key positions focused on product development and introduction of new technologies at companies such as Wärtsilä. In the last years, he has given emphasis on the implementation and integration of energy saving technologies in marine applications. Elias is also Senior Advisor to a Classification Company and energy saving product manufacturers. He is Visiting Professor at the Dalian Maritime University (China), member of IMAREST, ASME and SNAME and participates in several CIMAC activities.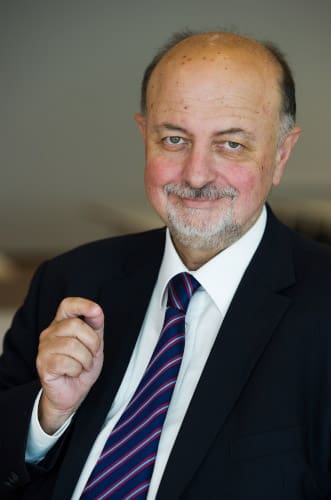 "We are delighted to welcome Elias to our team as an external advisor," said José Miguel Bermúdez, CEO of bound4blue. "His extensive experience and deep industry knowledge will be essential as we continue to drive growth and innovation in the wind propulsion field. We are confident that his insights and guidance will help us to identify and capitalize on new opportunities and take our company to new heights."
"The wind as such is the 'greenest fuel', contributing to the decarbonization of the marine industry. I'm excited to join bound4blue and contribute to the company's mission to reduce shipping's emissions in a profitable way" said Elias. "bound4blue has the right product for the merchant and passenger vessel market. After evaluating available energy saving solutions, I recognized that the eSAIL technology has the right cost efficiency for the marine market. The solution is innovative and efficient in converting wind force to propulsive thrust and is produced with conventional material and techniques as used in the wind turbine industry".
Contact information:
Cristina Aleixendri – bound4blue – T: +34 938 33 73 92 – Email: press@bound4blue.com
Note to editors:
About bound4blue
bound4blue develops automated wind-assisted propulsion systems as a turnkey solution for all shipowners and shipping companies seeking to reduce fuel costs and polluting emissions. bound4blue's eSAIL® system is a validated solution for saving fuel and emissions, completely autonomous, with low maintenance and easy installation onboard, being the most cost-efficient wind propulsion technology today. The company, founded in 2014 with a vocation clearly focused on the renewable energy sector in the maritime field, has its headquarters in Cantabria (Spain) and offices in Barcelona and Singapore. During 2021, the company installed its eSAIL® system on two ships and has signed additional agreements with other shipowners like Amasus Shipping, Louis Dreyfus Armateurs and Marubeni Corporation to install the system on their fleets.
For more information, visit: www.bound4blue.com