Press release
The general cargo vessel Eems Traveller ready to set sail today with two suction eSAILs
The general cargo vessel Eems Traveller ready to set sail today with two suction eSAILs
bound4blue has successfully installed two 17-metre-high eSAILs® on the general cargo vessel Eems Traveller, owned by Amasus.
These sails represent a new and improved generation of the system previously installed on the La Naumon but continue to hold the record as the largest suction sail ever built and installed on a ship.
This is the biggest installation of fixed suction sails on a ship today.

Barcelona (Spain), Delfzijl (The Netherlands) | 4th July 2023.

bound4blue, key player in the wind propulsion sector, has successfully installed two eSAILs® on Dutch flagged Eems Traveller, a 2,850-dwt general cargo vessel owned by Amasus.

The eSAIL system, categorized as a suction sail, is based on the use of a thick aerodynamic profile and smart suction to increase the propulsive efficiency, resulting in a system that produces seven times more lift than an airplane wing.

These sails represent a new and improved generation of the system installed on the La Naumon, delivering higher efficiency with the same size. Standing at a height of 17 meters, they continue to hold the record as the largest suction sail ever built and installed on a ship. In fact, the installation of these two sails on the Eems Traveller also marks the largest installation of fixed suction sails on a ship to date.

The installation was executed in two distinct phases. One year ago, during a scheduled regular dry-dock of the vessel, the foundations for the eSAILs® were manufactured and installed in The Netherlands. The verticalization manoeuvre and connection to the reinforcement of the sails was completed in less than four hours at the Port of Bilbao last week. In between these two phases bound4blue has been monitoring the ship to obtain its baseline performance, which will be used by a third party to assess the fuel and emission savings results in the next 12 months. In this way, scientifically validated results are obtained, which can be used to demonstrate the actual effects of the system in use on board of the vessel and form the basis for any future further development.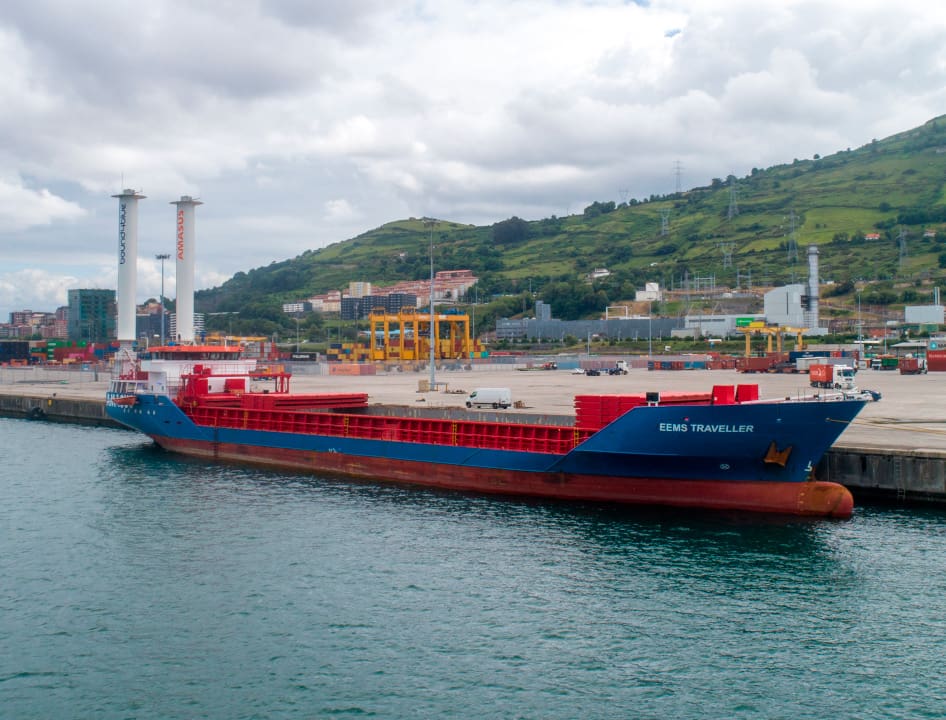 José Miguel Bermúdez, CEO of bound4blue, says: "In the same way that we need proven sustainable solutions to decarbonize the industry, we also need to implement them as fast and efficiently as possible. As evidence of this, we have utilized for the first time the port infrastructure to install our systems, demonstrating that shipowners don't have to wait for the scheduled maintenance of the ship to start reaping the benefits of wind propulsion."
Arend-Jan Rozema, Managing Director of Amasus, says: "The joint development of this wind propulsion concept marks an important milestone and contribution to the aspiration in creating a sustainable future. As Amasus, we are proud and delighted to realize this new project together with our partners from bound4blue."
This installation, approved by Bureau Veritas, has been done within the framework of the Sails for Cargo project, co-funded by Fondo Puertos 4.0 of Puertos del Estado, with the support from Port of Bilbao, Bilbao PortLab, Toro y Betolaza, Astilleros Zamakona and Zamakona Yards.

Contact information:
Cristina Aleixendri – bound4blue
T: +34 938 33 73 92 – Email: press@bound4blue.com
Related Press Release
March 29, 2022
Amasus signs an agreement with bound4blue
https://bound4blue.com/en/news/amasus-shipping-signs-an-agreement-with-bound4blue-93
Notes to editors:
About bound4blue
bound4blue develops automated wind-assisted propulsion systems as a turnkey solution for all shipowners and shipping companies seeking to reduce fuel costs and polluting emissions. bound4blue's eSAIL® system is a validated solution for saving fuel and emissions, completely autonomous, with low maintenance and easy installation onboard, being the most cost-efficient wind propulsion technology today. The company, founded in 2014 with a vocation clearly focused on the renewable energy sector in the maritime field, has its headquarters in Cantabria (Spain) and offices in Barcelona and Singapore. During 2021, the company installed its eSAIL® system on two ships and has signed additional agreements with other shipowners like Amasus Shipping, Louis Dreyfus Armateurs and Marubeni Corporation to install the system on their fleets.
For more information, visit: www.bound4blue.com
About Amasus
Amasus is a full-service shipping office, located in the former nautical school and the Abel Tasman National Monument in Delfzijl. Amasus has been engaged in chartering and total ship management for its own fleet of ships, for a large number of shipping companies and captain owners for more than 42 years, having also terminal facilities in Eemshaven and in the port of Delfzijl. Amasus owns and operates ships in the shortsea, bulk, general cargo, offshore and worldwide heavy lift (incl. RoRo) market and, in its vision, the creation of added economic value should be combined with social justice and a healthy living environment. Corporate social responsibility is Amasus´ chosen tool to create a balance between the economic, social and environmental aspects of its corporate policy, and technical innovations play an important role in the company. Amasus is constantly supporting the continuous improvement of navigation, sensoring, monitoring, maintenance, sustainability and prevention of incidents, acting as an initiator, participant and supporter in a number of innovative projects in these areas.
For more information, visit: www.amasus.nl