Press release
bound4blue installs in Astander its eSAIL® system on "La Naumon"
Published
22 December 2021
bound4blue installs in Astander its eSAIL® system on "La Naumon", the first theatre vessel in the world to sail with wind-assisted propulsion technology.
The manufacturing and commissioning of bound4blue's technology, together with its installation by Astander, are co-funded by the European Union, in the framework of the GREENing the Blue project (CINEA – European Climate, Infrastructure and Environment Executive Agency).
The project aims to promote the use of wind power to propel vessels, thus reducing fuel consumption and pollutant emissions.
bound4blue has successfully installed an 18-metre-high eSAIL® on "La Naumon", the theatre vessel of the world-acclaimed La Fura dels Baus and the production company Elipsis Onboard. The rigid sail, equipped with a tilting mechanism and an autonomous control system, is a cost-effective and proven technology to comply with International Maritime Organization emissions reduction regulations, such as the upcoming EEXI and CII measures.
José Miguel Bermúdez, CEO of bound4blue: "Our rigid sails are quick and simple to install. Before the installation, a detailed vessel transformation project is performed and submitted to the Class Society and Flagging State for approval. Later, prior to the installation, the foundation and electrical work is completed. The installation can then be performed afloat, like in the case of "La Naumon", during a scheduled drydocking or during any port call, as the operation takes less than a day."This installation, approved by DNV-GL, has been done within the framework of the GREENing the Blue project, co-funded by the European Union. The Spanish shipyard Astander has participated in the project leading all the installation phase of the sail and the German company Lanitz Aviation has tested new lightweight materials to be applied in the maritime sector.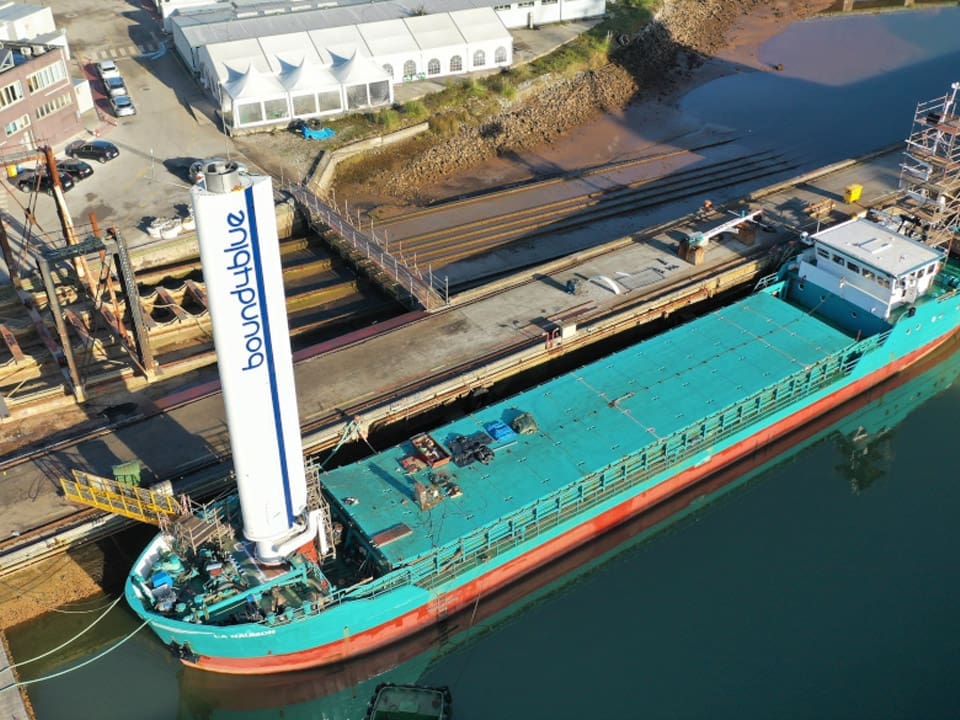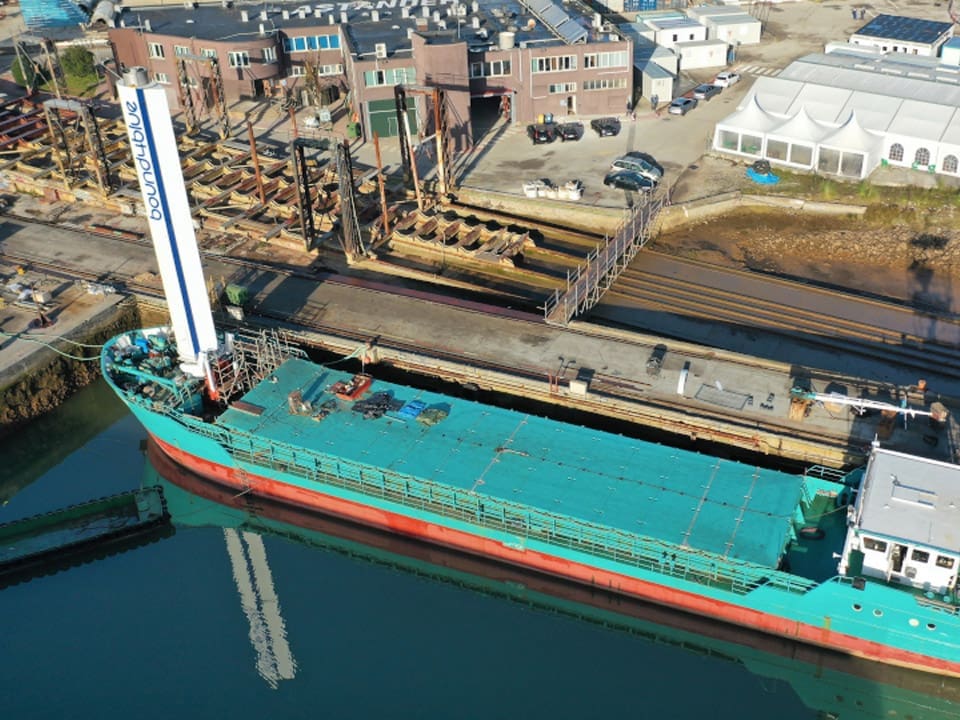 Juan Luis Sánchez, Director of Astander: "Reducing CO2 is one of the most ambitious goals for the maritime industry in upcoming years and installing this sail helps ships consume less fuel without losing competitive performance, and therefore, emit less. GREENing the BLUE is the first rigid sail installation project for Astander, and we can highlight that collaborating with bound4blue has been a great opportunity. It has been a great start and we hope to have the opportunity to work on more similar projects with other shipowners."

The suction sail, in addition to co-propelling "La Naumon", will also be the main stage of the wind theatre. Carlus Padrissa, Creative Director of La Fura dels Baus: "I imagine the eSAIL slowly rising to the magical wind of music, pyrotechnics and light. A trapeze artist with the wings of a butterfly, representing the transformation of renewable and circular energy, will fly anchored at its tip. It will be an immersive and global show that will provoke change and ignite consciences."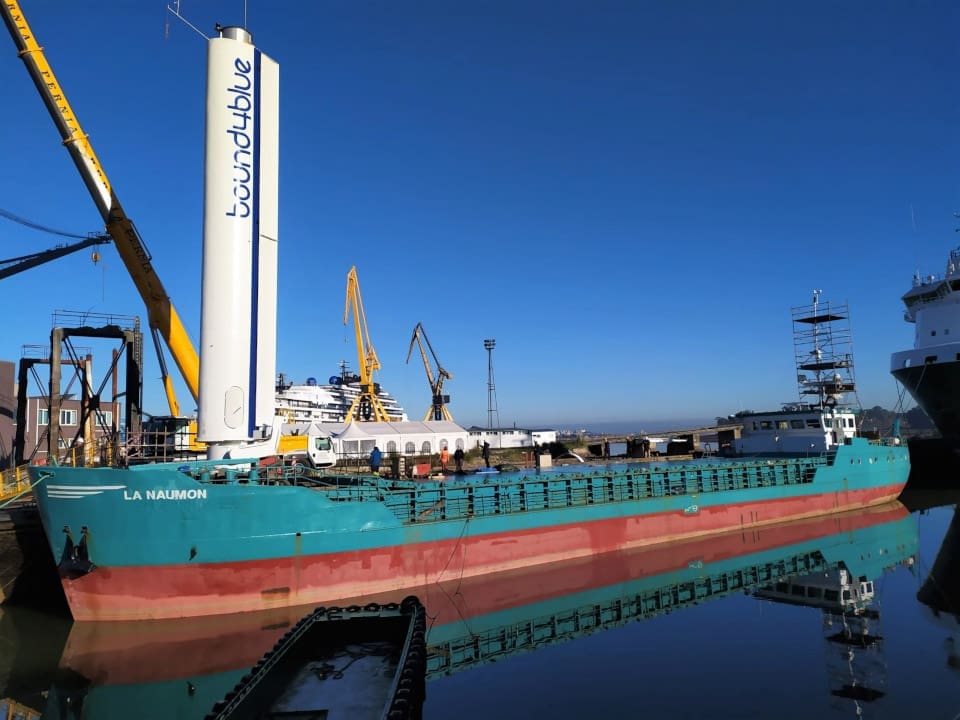 Note to editors:
About bound4blue
bound4blue develops automated wind-assisted propulsion systems as a turnkey solution for all shipowners and shipping companies seeking to reduce fuel costs and polluting emissions. bound4blue's eSAIL® system is a validated solution for saving fuel and emissions, completely autonomous, with low maintenance and easy installation onboard, being the most cost-efficient wind propulsion technology today. The company, founded in 2014 with a vocation clearly focused on the renewable energy sector in the maritime field, has its headquarters in Cantabria (Spain) and offices in Barcelona and Singapore. During 2021, the company installed its eSAIL® system on two ships and has signed additional agreements with other shipowners like Amasus Shipping, Louis Dreyfus Armateurs and Marubeni Corporation to install the system on their fleets.
For more information, visit: www.bound4blue.com
About Astander
Astander has 150 years' experience repairing and transforming all types of ships. It is one of the leading shipyards in this sector thanks to its quality and safety standards, as well as the trust placed in it by its customers. All these years have been possible thanks to Astander adapting to new technologies. One of its current strategic lines focuses on digital and ecological transformation; one of the powerhouse shipyards in adapting ships to new international regulations that promote the use of renewable energies and more environmentally friendly technologies. As a shipyard that is specialised in transformations, Astander has carried out various projects to adapt ships to these new demands: installing systems to reduce emissions, processing ballast water, improving propulsion efficiency and the use of new fuels. For more information, please visit: www.astander.es
About Lanitz Aviation
Lanitz Aviation is a German company specialised in solutions for the aeronautical industry. Air sport has a tradition in Lanitz. They also test their general aviation products for their suitability in daily use. The company was founded in 1975, production was launched in 1985 under the name ORACOVER®, aviation authorisation was issued in 1998 and in 2013 the company got its first certification from EASA/LBA. For more information, please visit: www.lanitz-aviation.com
About La Naumon
La Naumon is an itinerant theatre-ship led by La Fura dels Baus, offering art, innovation and sustainability as a response to the world's challenges. It is also a forum for dissemination and debate, and one more evidence that we all live on a planet full of challenges. Around 500 years ago a crew embarked on the greatest adventure in history. Together they went around the world for the first time. La Naumon remembers this epic achievement going a step further. The ship will be a large floating stage, ideal for macro shows of La Fura dels Baus, which can be seen from the pier or from the beach, and the hold will be equipped to host exhibitions and more intimate performances. The Naumon also has its own on-board laboratory as an ideal forum to do tests of innovation projects. It is also an ideal environment to develop new renewable energies and to analyse the impact of mankind on the planet. For more information, please visit: www.lanaumon.com
*The contents of this publication are the sole responsibility of the authors and do not necessarily reflect the opinion of the European Union.
Media enquiries:
Cristina Aleixendri
T: +34 943 305 095 | +34 938 337 392
email: press@bound4blue.com