Press release
Marubeni Corporation and bound4blue join forces to drive implementation of eSAIL system
Marubeni Corporation and bound4blue, a Spanish engineering company which has developed and commercializes a wind propulsion system called eSAIL, have formed a strategic partnership to promote and sell this technology. The partnership between both companies marks a significant milestone in the pursuit of decarbonization in the maritime industry.
Through the partnership agreement, Marubeni will promote retail activities for eSAILs both domestically and internationally, leveraging its network in the shipping industry established to date. Furthermore, Marubeni will act as the exclusive business partner of bound4blue in the Japanese market, with the two partners actively working together to enhance their mutual relationship.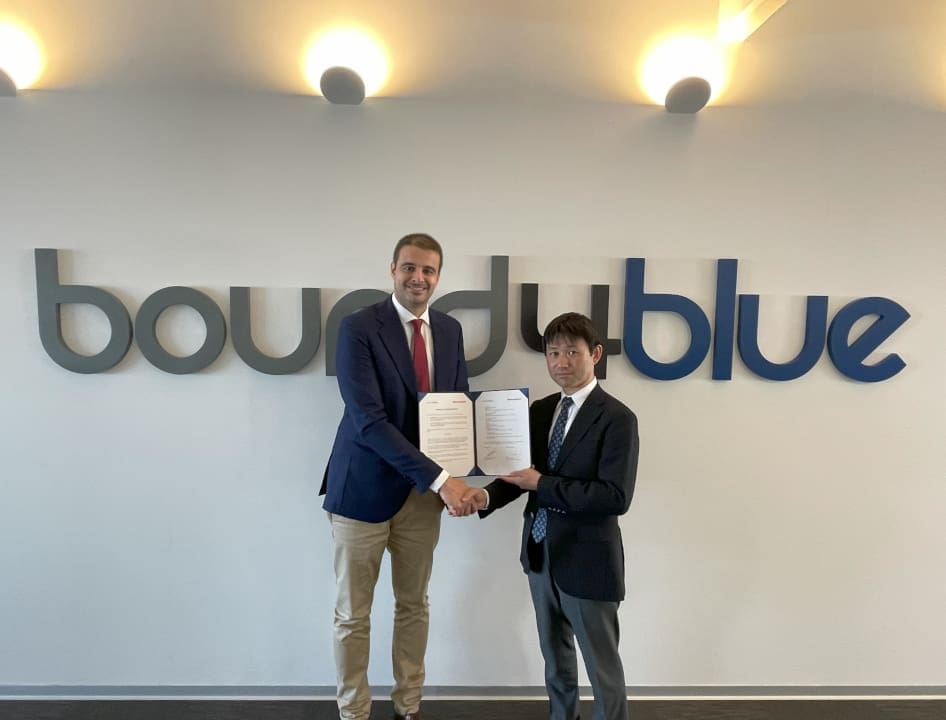 In recent years, the trend towards decarbonization has been gathering momentum in various industries, and awareness of these and other moves to introduce environmental measures are also increasing in the shipping industry. Wind propulsion systems use wind-power (a 100% renewable energy source) to generate propellant thrust, and such technology is gathering attention as a next-generation tool for the reduction of greenhouse gas emissions in the maritime industry.
The eSAIL system is categorized as a suction sail. The basic principles of the eSAIL are similar to those underlying the generation of lifting power by airplane wings. The sucking of air into the eSAIL also smooths the flow of wind around its body, with the result that propulsive force can be generated more efficiently.
Marubeni and bound4blue are also working on a joint project for installation of four eSAILs on a Panamax bulk carrier of MMSL PTE. LTD., a wholly owned subsidiary of Marubeni.
José Miguel Bermúdez, CEO of bound4blue, highlights that "partnering with a renowned company like Marubeni strengthens our position as a key player in the wind propulsion sector and enables us to contribute more effectively to the global efforts of decarbonizing the maritime industry in a profitable way".
Mr. Yasutomo Miyake, General Manager, Ship Project Dept. of Marubeni, stated, "In line with our commitment to becoming a 'Forerunner in Green Business,' we are thrilled to collaborate with bound4blue in our shared vision of a decarbonized society. By actively participating in the construction of environmentally beneficial supply chains, Marubeni aims to contribute to the reduction of greenhouse gas emissions and promote sustainable practices across industries."

Contact information:
Cristina Aleixendri – bound4blue – T: +34 938 33 73 92 – Email: press@bound4blue.com
Related Press Release
November 11, 2022
Installation of Wind Propulsion System on Panamax Bulk Carrier
Note to editors:
About bound4blue
bound4blue develops automated wind-assisted propulsion systems as a turnkey solution for all shipowners and shipping companies seeking to reduce fuel costs and polluting emissions. bound4blue's eSAIL® system is a validated solution for saving fuel and emissions, completely autonomous, with low maintenance and easy installation onboard, being the most cost-efficient wind propulsion technology today. The company, founded in 2014 with a vocation clearly focused on the renewable energy sector in the maritime field, has its headquarters in Cantabria (Spain) and offices in Barcelona and Singapore. During 2021, the company installed its eSAIL® system on two ships and has signed additional agreements with other shipowners like Amasus Shipping, Louis Dreyfus Armateurs and Marubeni Corporation to install the system on their fleets.
For more information, visit: www.bound4blue.com
About Marubeni Corporation
Marubeni Corporation and its consolidated subsidiaries use their broad business networks, both within Japan and overseas, to conduct importing and exporting (including third country trading), as well as domestic business, encompassing a diverse range of business activities across wide-ranging fields including lifestyle, ICT business & logistics, food, agriculture business, forest products, chemicals, metals & mineral resources, energy, power, infrastructure project, aerospace & ship, finance, leasing & real estate business, construction, industrial machinery & mobility, next generation business development and next generation corporate development. Additionally, the Marubeni Group offers a variety of services, makes internal and external investments, and is involved in resource development throughout all the above industries.
For more information, visit: www.marubeni.com/en